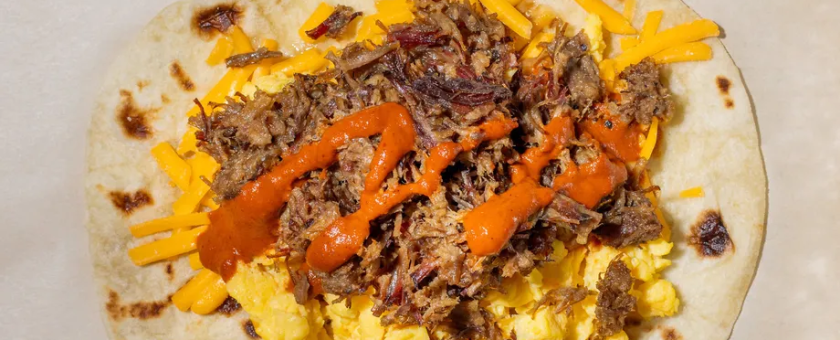 2023 / Nov / 01
Austin's Famed Franklin Barbecue Is Coming to LA for Just Five Days
Photo By: Jakob Layman
From: EATER Los Angeles
By: Matthew Kang
One of Texas's most famous restaurants, Franklin Barbecue, is collaborating with LA's HomeState to create a chopped brisket breakfast taco for just five days from November 8 to 12. To date, Franklin Barbecue has never appeared in Los Angeles except for a pop-up in 2015 that founder and chef Aaron Franklin conducted with chef Adam Perry Lang. For those who haven't heard of Franklin Barbecue, it's regarded as one of the best barbecue places in the world, drawing huge lines every day it's open. And it's officially coming to LA next week to celebrate HomeState, an Austin-style breakfast taco specialist, that turns 10 years old this year.
As for next week's collab, dubbed the Franklin, expect Franklin Barbecue's smoked brisket that's chopped and then finished with garlic tallow on the plancha. It's served with Vital Farms pasture-raised scrambled eggs, cheddar, and chile de arbol salsa in HomeState's celebrated flour tortilla. The brisket breakfast taco will only be available in person at HomeState's original location at 4624 Hollywood Boulevard, so expect lines, just like at Franklin Barbecue.
The best part of the collaboration is that HomeState will donate a dollar from each taco sold to the Southern Smoke Foundation. This nonprofit supports those in the food and beverage industry with emergency relief funding and access to mental health services. Vital Farms is also matching the total donation up to $10,000. So yes, expect at least 10,000 tacos to be served over five days at HomeState. Since opening 10 years ago, HomeState has expanded eight locations in Southern California, including Culver City and even as far south as Oceanside.
Matthew Kang is the Lead Editor of Eater LA. He has covered dining, restaurants, food culture, and nightlife in Los Angeles since 2008. He's the host of K-Town, a YouTube series covering Korean food in America, and has been featured in Netflix's Street Food show.