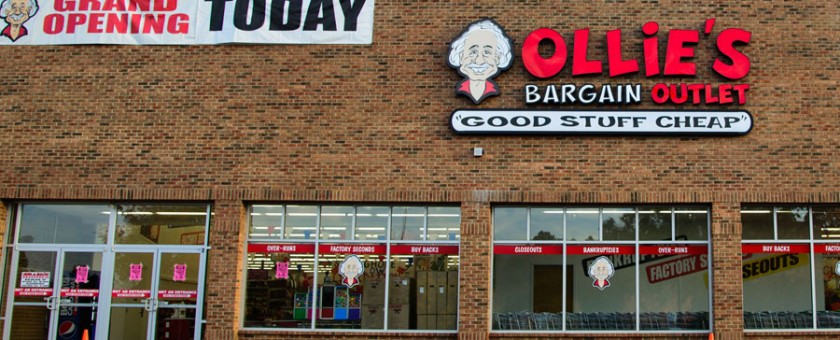 2012 / Aug / 28
CCMP to Invest Alongside Management in Ollie's Bargain Outlet
Harrisburg, Pennsylvania and New York, NY
CCMP Capital Advisors, LLC ("CCMP") and Ollie's Bargain Outlet ("Ollie's") today announced that they have signed a definitive agreement under which affiliates of CCMP will acquire an interest in Ollie's from SKM Equity Fund III, L.P. ("SKM") through a recapitalization transaction in partnership with current management. Ollie's co-founder, Mark Butler, will remain Chairman and Chief Executive Officer and will retain a significant ownership position as its largest individual investor. Financial terms of the transaction were not disclosed.
Ollie's, founded in 1982 and headquartered in Harrisburg, Pennsylvania, is a high growth specialty retailer of brand name, closeout merchandise. The company offers a broad assortment of merchandise across multiple product categories including books & stationery, housewares, floor coverings, food & candy, domestics, hardware and other general merchandise. The company operates 124 stores across 13 contiguous states in the eastern United States.
Stephen P. Murray, President and CEO of CCMP Capital, commented, "We're very pleased to be partnering with Mark Butler and his high-caliber management team. Under Mark's leadership, Ollie's has become a world class, fast-growing retail franchise with tremendous opportunities for continued expansion. We look forward to working with Mark and the talented employees at Ollie's as we together realize the company's full potential."
Ollie's CEO Mark Butler said, "Management and I are very pleased to be entering into this new partnership with CCMP. With CCMP's support and industry knowledge, we are well-positioned to continue our accelerated new store growth plans, while focusing on providing outstanding value to our customers." Butler continued, "Our partnership with SKM represented a key relationship in Ollie's as we built a strong foundation for our expansion. Their support has been instrumental in facilitating Ollie's tremendous success over the last decade."
Jefferies & Co., Inc. acted as exclusive financial advisor, Ropes & Gray LLP acted as legal advisor to Ollie's and Barley Snyder acted as legal advisor to Ollie's management. Weil, Gotshal & Manges LLP acted as legal advisor to CCMP Capital.
About Ollie's Bargain Outlet
Founded in 1982, Ollie's Bargain Outlet is one of America's largest retailers of merchandise obtained through closeouts, bankruptcy sales, salvage and surplus merchandise. Known for its signature catchphrase "Good Stuff Cheap," Ollie's offers a wide variety of recognized, brand-name merchandise at up to a 70 percent discount from the retail price. With over 3,000 employees and 124 stores in Delaware, Kentucky, Maryland, Michigan, New Jersey, New York, North Carolina, Ohio, Pennsylvania, South Carolina, Tennessee, Virginia and West Virginia, Ollie's has a proven track-record of expansion, having added 10 new states and 76 new stores since 2006.
About CCMP Capital
CCMP Capital Advisors, LLC ("CCMP"), specializes in upper-middle market buyouts and growth equity investments of $100 million to $500 million in the U.S. and Europe. CCMP focuses on generating alpha through the operational transformation of its portfolio companies. With offices in New York, Houston and London, CCMP invests in four primary industries: Consumer, Industrial, Energy and Healthcare. Selected investments under management include: ARAMARK Corporation, Chaparral Energy, Edwards Group, Francesca's Collections, Generac Power Systems, Infogroup, Jetro Holdings, LHP Hospital Group, Medpace, Milacron, Newark Energy and Warner Chilcott.
Media Contacts:
CCMP Capital
Andrew Cole/Brooke Gordon
Tel: (212) 687-8080
Ollie's Bargain Outlet
Dan Haines
Tel: (717) 657-2300