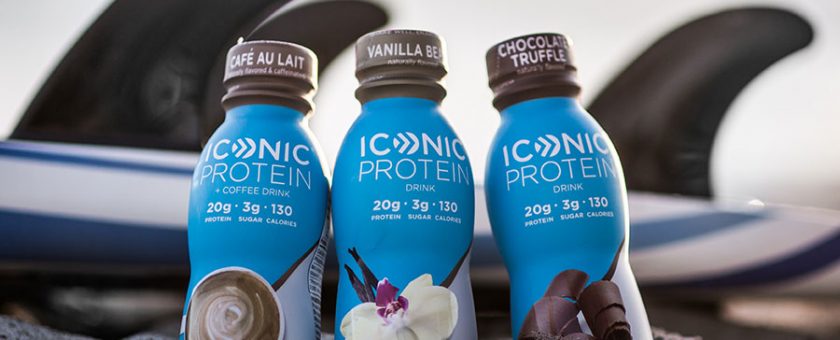 2017 / Sep / 13
Iconic Lands $8M Investment, Bill Moses Joins
From: Bevnet
By: Martin Caballero
Grass-fed protein drink brand Iconic Protein announced today the completion of a $8 million round of fundraising led by private equity firm KarpReilly and includes KeVita co-founder and former CEO Bill Moses, who was named the company's executive chairman.
"We're thrilled to announce the funding as well as the addition of these key investors who have proven themselves in the industry," said Iconic co-founder and CEO, Billy Bosch, in a press release. "KarpReilly is one of the savviest investors in the food and beverage space and we welcome both their guidance and Bill's leadership as we continue to disrupt the protein category."
KarpReilly has been an active investor in beverage over the last year, pouring millions into companies like Spindrift , Zola, and, most recently, plant-based protein drink brand Koia. Additional investors in the round include CORE Nutrition founder and serial beverage entrepreneur Lance Collins, as well as Gunnar Lovelace and Nick Green, founders of e-commerce retailer Thrive Market.
The announcement marks the second funding round for Iconic in just over a year, having raised $1 million from angel investors last July. Founded in 2013, the New Orleans-based brand markets a three-SKU line of low sugar nutritional smoothies made with dairy protein from grass-fed cows in New Zealand. The product is sold in at natural and conventional retailers such as Kroger, Wegmans and H-E-B.
Iconic will use the funding to build out its senior leadership team and develop product innovations. Bosch told BevNET that after experiencing strong incremental growth in retail over the past 12 months, the company would now focus on bringing in talent and experience.
"We have capital in place — now we are looking to add the human capital," said Bosch, noting the recent addition of Soylent co-founder and former chief technology officer John Coogan as an e-commerce consultant for the brand. He also identified sales and marketing as departments that may see new hires. "In the early stages, we had a feel for where we should go with things — you can focus group things, talk to customers in the field and figure out what resonates," he continued. "I think having someone at the helm [in marketing] who has some CPG experience is going to be really important."
The big get was Moses, whom Bosch said he connected with at Natural Products Expo West 2017 this spring. Moses, who recently joined the board of directors at Koia, will help advise on strategy and innovation in his new role as executive director. Moses said that he was attracted to Iconic's combination of grass fed protein, taste and clean ingredient profile.
"I tested all the dairy proteins on the market and found many leading brands to have high levels of toxins. Iconic tested clean," said Moses. He declined to answer at this time which toxins he found during product testing. "So we believe major disruption can be effected with a truth in labeling program like the one I did in the kombucha category [for KeVita]."
In terms of product innovation, Bosch said Iconic is working on several new flavors that would be announced before the end of the year.
Even as the brand continues to expand its retail presence, Bosch emphasized that Iconic remains focused on nurturing its existing customer base rather than aiming for mass consumption, saying "for us, it's not about being appealing to everyone."
"At our stage of brand building, we are really about building a tribe around brand," he said, calling Iconic's target consumer a "mindful athlete" who is health-conscious but may not exercise religiously. "We provide a more approachable brand for them to come in and have a positive first experience in the space. It happens to be heavily female, and then we'll go from there."