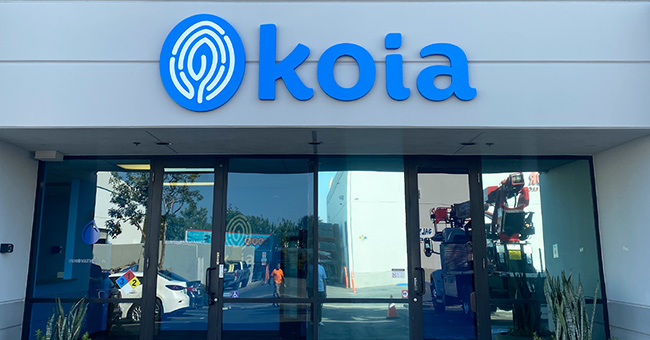 2023 / Feb / 08
Koia Adopts Vertical Integration Model with Anaheim Production Plant
From: Bevnet
By: Brad Avery
Seeking to swiftly amplify its sales and velocity over the coming years, California-based plant-based beverage company Koia has transitioned to a vertically integrated production model with the acquisition of a production facility in Anaheim.
Koia quietly acquired the 48,000 square foot facility last summer and began construction in July, CEO Chris Hunter and president Mike Woolard said in a call today. The plant, which also includes office space, is staffed by around 50 full time employees, with a second daily shift starting this month.
"We've grown 500% over the last four years … and it was becoming tougher for our co-manufacturers to meet our capacity demands," Woolard said.
The decision to embrace vertical integration, he said, came against the backdrop of disruptions in supply, labor and manufacturing over the course of the pandemic. When one of Koia's co-manufacturers instituted a monthly production cap on the brand in 2021, attitudes within the company changed.
"That was the first shot across the bow, like 'Wow, we need to make sure we have control of our own destiny here.'"
Koia currently sells about 2 million bottles per month across over 25,000 stores nationwide, Woolard said. Once online, the production plant will allow the nearly seven year old company to produce up to 8 million bottles each month.
According to Woolard, Koia is focused on scaling its products and does not intend to use the facility for co-packing, noting that it would be a "distraction."
Co-founded in 2016 by Hunter, Dustin Baker and Maya French, Koia produces a variety of vegan protein shakes, smoothies and keto drinks. According to IRI, sales of Koia products classified as refrigerated weight control and nutritional liquids were up 34% to over $29.5 million in the 52-week period ending January 1, while its refrigerated juice and smoothie products grew 142% to $5.1 million.
In total, Hunter said Koia's retail dollar sales across all product lines last year came close to $100 million and Woolard said the brand now has a "clear path to $200 million in the next couple of years."
While extending the footprint is part of the growth strategy, Hunter said the primary focus is increasing velocity and going deeper in existing retail partners. While some accounts, such as Whole Foods, may carry as many as 14 Koia SKUs, he said, others like Kroger may only offer three, presenting an opportunity to increase shelf facings across natural and conventional accounts.
Vertical integration will also allow Koia to experiment more when it comes to innovation through the release of limited and seasonal flavors, or retailer exclusive products, Hunter added. The company introduced its first LTO in February 2022 – Keto Raspberry Lava Cake – in collaboration with keto diet influencer Thomas DeLauer.
Woolard noted that in the past, co-manufacturers could require a two to three month lead time to approve formulations for new products, but an in-house facility allows Koia to more quickly pivot and respond to trends and consumer demand.
"The ability to react to the market demand as well as to supply it with additional innovation or support that additional innovation is clearly there with our own facility," Woolard said.
Details of the acquisition were not disclosed and Hunter and Woolard declined to say how the facility purchase was financed. Koia last announced new financing in 2021 when it brought celebrity investors such as The Weeknd, Kevin Hart and Kyler Murray to the cap table. That year, the brand also brought on NBA All-Star Chris Paul as an investor who said he would use his platform to introduce Koia to students at Historically Black Colleges and Universities.