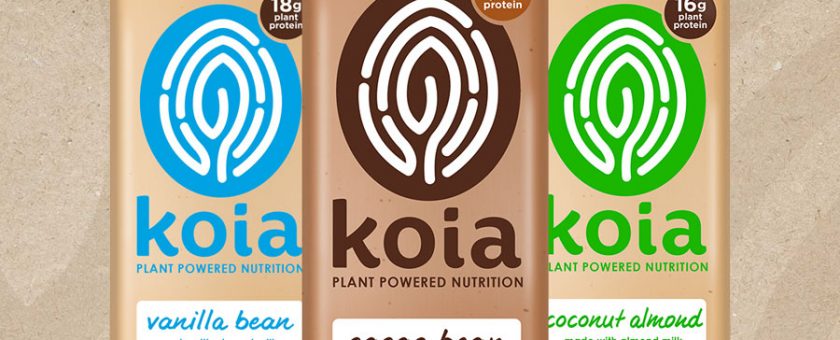 2017 / Jul / 17
Koia Announces $7.5M Fundraise
From: Bevnet
By: Martin Caballero
Plant-based protein smoothie brand Koia announced today the closing of a $7.5 million seed series fundraising round led by KarpReilly and AccelFoods.
"We are incredibly excited to partner with Chris and the rest of the Koia team," said Allan Karp, co- founder of KarpReilly, in a press release. "We rarely encounter a business that so early on has so clearly resonated with both retailers and consumers alike. Combined with an experienced and talented group of management, advisors, and co-investors we are confident that Koia is well positioned to become a category leader."
Food and beverage venture capital fund AccelFoods, which first invested in Koia in March, also participated in this round. In a press release, co-founder and managing partner Jordan Gaspar said, "We are thrilled to further invest in Koia and the company's vision of a plant-based future. Chris Hunter is a proven leader capable of building a world-class management team to grow this innovative next-generation brand."
The news marks another step in the continued growth of Koia, which was launched in 2013 on the strength of a successful crowdfunding campaign. The smoothie is made with an almond milk base and a proprietary blend of brown rice, hemp and pea protein. Each of the three SKUs — cacao bean, vanilla bean and coconut almond — contain 16-19 grams of protein in each 12 oz. bottle and have a suggested retail price of $5.99.
As part of the round, Bill Moses, co-founder of probiotic beverage brand KeVita and an investor in Koia, will join the company's board of directors. The brand also counts Bill Weiland, president and CEO of independent natural food broker Presence Marketing, as an investor and advisor and experienced beverage consultant Jim Tonkin as an investor.
"We are fortunate to have a robust investor and advisor group in my opinion," said Hunter. "Bill in particular is very familiar and successful in the cold-chain beverage space. So leveraging some of his experience and knowledge in that at a high-growth company, handling that will be invaluable for us."
Hunter said that the funds would be used to expand company staff. "We are in the process of hiring a director of marketing, and we are looking to some other sales roles," he said. "We are really trying to fill out the leadership for each different division and then trying to set goals underneath that."
In terms of distribution, Hunter said the brand, available nationally at Whole Foods, continues to build in the natural channel with an eye to eventual penetration into conventional retailers such as Wegmans, in which it recently launched.
"We are obviously a ready-to-drink plant-based protein product, and there are other RTD options out there, a majority of which are shelf-stable," said Hunter. "I think that's a different proposition compared to a fresh product like ours. I think what has really set us apart has been our nutritional panel in terms of this amazing efficient delivery of high protein and incredibly low sugar that seems to surprise people, not only when they read the label but also when they taste the product."