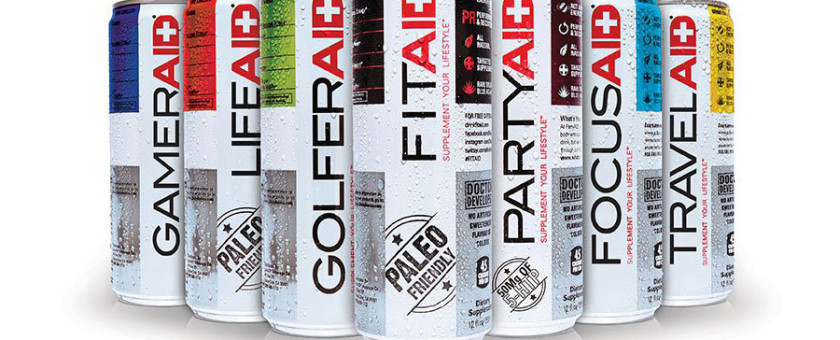 2016 / Jul / 19
LifeAID Announces Investment from KarpReilly
From: Bevnet
Santa Cruz, Calif., July 19, 2016 – LifeAID Beverage Company has secured an investment from private-equity firm KarpReilly, LLC (Dollar Tree, Sprinkles, The Habit Burger, Kevita, Zola…) to fund its continuing path of growth. The total amount of the transaction remains undisclosed, although represents a significant minority position according to company reps.
LifeAID's line of "better-for-you" beverages include FitAID, FocusAID, PartyAID, TravelAID, GolferAID, and the FitAID Fuel Pouch.
LifeAID co-founders Orion Melehan and Dr. Aaron Hinde considered other PE firms before selecting KarpReilly as the ideal partner. "The team at KarpReilly understands current consumer trends and passionately supports the functionality and nutritional value of our products. Additionally they were impressed with our go-to-market successes in non-traditional channels such as golf courses and CrossFit® gyms," stated company president Dr. Hinde.
CEO Melehan added, "KarpReilly has a long-view approach and an impressive track record of scaling consumer brands. With their capital investment and imitable expertise, we now have greater resources to continue on our roadmap. We are building our brand to serve consumers with functional products that fit their lifestyle. There is a momentous shift happening in the beverage market. Consumers are waking up to what they are putting in their body, demanding alternatives to traditional sports drinks, energy drinks and sodas. LifeAID is the answer."
"We were impressed with what Orion, Aaron and the entire team has done in such a short time with the resources they had available." says KarpReilly co-founder Allan Karp, who will be joining the LifeAID board. "LifeAID is full of tremendous promise and is a great addition to our beverage portfolio. The writing is on the wall… functional beverages represent an evolution, we are betting on the best suited team to lead that change."
The proceeds from this raise will expand the LifeAID sales/marketing teams, supporting LifeAID's growing footprint in conventional retailers through a DSD distribution network. The brand is currently sold in The Vitamin Shoppe, H.E.B, and Whole Foods, with authorizations at multiple Safeway/Albertsons divisions. The natural channel will continue to be serviced by UNFI.
About LifeAID: LifeAID is the leading manufacturer of premium, healthy and convenient nutritional products for different active lifestyles. Products are currently sold in over 7000 domestic doors and in over 22 countries. For more information, visit www.lifeaidbevco.com
About KarpReilly: KarpReilly, LLC is a private investment firm, founded by Allan Karp and Chris Reilly, whose primary mission is to partner with premier small to mid-size growth companies and help them achieve their long-term vision. KarpReilly currently manages funds and affiliates with capital commitments in excess of $500 million. Over the past 15 years, the principals of KarpReilly have invested in, sat on the boards of and nurtured over 25 growth companies. For more information, please visit www.karpreilly.com.