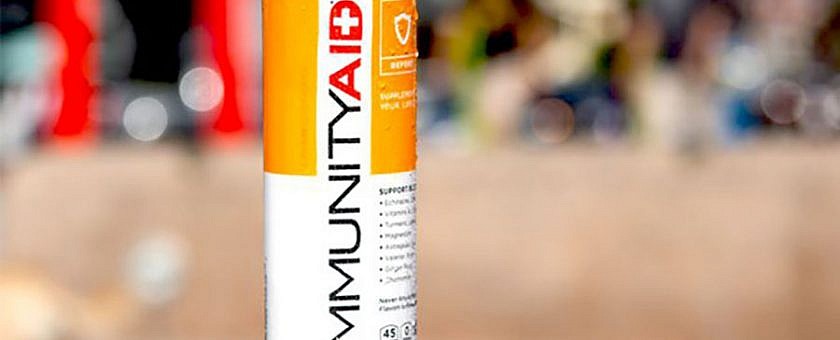 2018 / Nov / 05
LIFEAID Beverage Co.® launches ImmunityAid™
From: PRNewswire
LIFEAID Beverage co.
SANTA CRUZ, Calif., With winter just around the corner, many people are starting to prepare for how to best stay healthy and productive all season long. Some will constantly pull out the trusty sanitizer to avoid these seasonal challenges while others will focus on diet and nutrition to help fortify their immune systems. For those people, LIFEAID Beverage Co. is introducing ImmunityAid.
ImmunityAid is available in a 12-fl. oz. can and provides a powerful blend of key vitamins and nutrients which are intended to help boost your immune system & keep you fortified and defended year-round, including:
Echinacea & Zinc
Vitamins A, C and D
Astragalus & Valerian Root
Turmeric & Ginger Root
With an "Orange Boost" flavor that is subtle, sweet and tangy, ImmunityAid is refreshing straight up or over ice and is easily consumed on-the-go or with a meal, making it one of the simplest and most enjoyable ways to give your system a boost.
ImmunityAid is available for convenient shipment directly to your home by ordering on the LIFEAID website, and is available at retailers nationwide starting this November.
"The mission of the LIFEAID Beverage Co. is to provide consumers with delicious and functional ingredients that benefit a health-focused lifestyle," says brand co-founder Dr. Aaron Hinde. "There are so many incredible supplements and nutrients you can integrate into your diet to give a boost to your system this season — we made it simpler and faster to enjoy the best of them in a ready-to-go product you can drink."
About LIFEAID Beverage Co.
With a focus on great-tasting, wellness-enhancing and solutions-driven supplement products, LIFEAID Beverage Co. has become a trusted brand among health- and performance-conscious consumers. LIFEAID offers a range of drinkable supplement blends including: FitAid, FocusAid, LifeAid, GolferAid, PartyAid and the newly launched ImmunityAid.
Since founding LIFEAID Beverage Co. in 2011, Orion Melehan and Aaron Hinde have built the brand into a thriving consumer-focused business and wellness movement that is a standout on e-comm and social media, and one of the most dynamic brands at retail in the U.S. and 20 other countries. Visit lifeaidbevco.com for more information.
Contact: press@lifeaidbevco.com
SOURCE LIFEAID Beverage Co.
Related Links:
http://www.lifeaidbevco.com