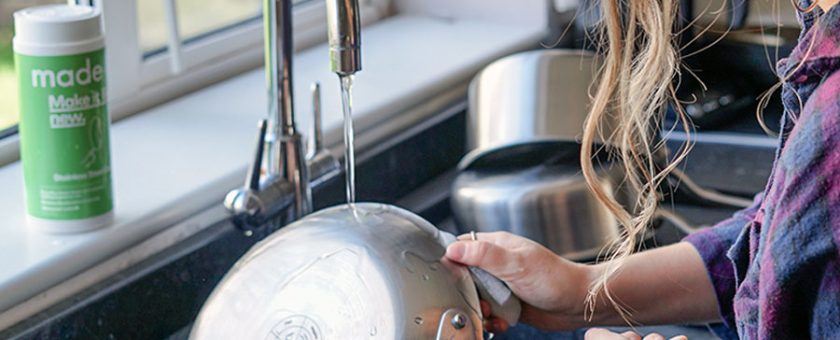 2017 / Oct / 30
Made in announces closing of series A funding
New York, New York
(October 30, 2017) – Made In, the direct-to-consumer cookware brand that launched in September 2017, announced the closing of a $1.33M Series A funding. KarpReilly, a consumer-focused private equity firm who focuses on growing new brands, lead the round. The round also included various private investors that specialize in restaurants, branded consumer products and e-commerce brands. Together these organizations will play a strategic role in Made In's growth.
Made In co-founders, Jake Kalick and Bradford "Chip" Malt, founded the company with the mission to inspire people to cook more at home by offering high-quality cookware at an affordable price. "Cookware is part of my DNA. My family has been in the kitchen business for almost one hundred years and prior to Made In I was helping run my family business," states Kalick, Made In's President. "When we created a direct-to-consumer brand, we were able to look at the current cookware market through a wide lens, taking into account what really matters when it comes to everyday cookware. We are excited to work with our investors and apply our collective experience to further grow our company."
As an emerging e-commerce brand, Made In will be using the funding to fuel marketing campaigns and expand their digital content to enhance the customer experience. This will include expanding their blog with both written and video content, creating branded content, and implementing offline activations like special events with partnered chefs. Additionally, they will be utilizing the money to grow their current line, invest in new product development, and hire new employees that will add value to their current team.
"From my experience working in e-commerce at Rhone, I know that the buying experience is as important as the product," states Malt, Made In's CEO. "Since our customers can't always hold the cookware in their hands before they purchase, we are excited to use these funds to ensure that our customers have an interactive and informative experience shopping on our website. Transparency is so important these days – we're investing in content that not only gives our customers a look into the American factory where their product is made, but also how to have fun using it once its delivered to their door."
"Made In is a compelling concept providing premium and accessible cookware necessary to round out a great home cooking experience," said Rich Reuter of KarpReilly. "We believe a remarkable opportunity exists to grow the digitally native brand and look forward to supporting Chip and Jake to realize that vision."
Designed with the consumer in mind and taking into account feedback received from surveying home cooks, Made In launched with a collection of cookware that features 5-ply construction for an even cook, heat-resistant handles, chemical free coating, and are stackable and dishwasher safe. The line includes fry pans (stainless steel and non-stick) sauce pans, sauté pans and stock pots that range in price from $59 to $139. They are currently working on developing new products, which will be announced in the near future.
# # #
About Made In
Made In is a premium cookware brand providing kitchen tools direct to the modern cook. By cutting out the costs associated with classic retail stores, Made In is able to create a better product at a lower price. Made In also aims to inspire and excite modern cooks to make better food at home through educational content on its social channels and blog. Made In's full collection features heat resistant handles, chemical-free coating, 5-ply construction to minimize rusting, warping and uneven cooking, and are stackable and dishwasher safe.
Supporting family owned businesses, Made In has an exclusive partnership with one of the few U.S. based cookware manufacturers, who has been making quality cookware for over 50 years. They work closely with their partners to ensure they are delivering high-quality products. The collection is produced in an environmentally responsible method and all production materials are recycled.
About KarpReilly
KarpReilly, LLC is a private investment firm, founded by Allan Karp and Chris Reilly, whose primary mission is to partner with premier small to mid-size growth companies and help them achieve their long-term vision. KarpReilly currently manages funds and affiliates with capital commitments in excess of $500 million. Over the past 10 years, the principals of KarpReilly have invested in, sat on the boards of and nurtured over 25 growth companies. For more information, please visit www.karpreilly.com.