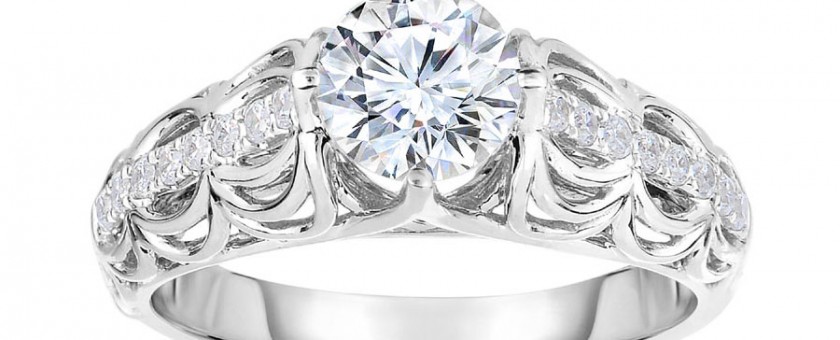 2015 / May / 12
Press Release: diamour, Adrianna Papell Launch Diamond Collection
From: Rapaport
By: Diamour
Press Release: Adrianna Papell, the global apparel and accessory brand, is proud to announce the launch of its diamond wedding collection of bridal sets, engagement rings, wedding bands and coordinates. Designed and produced in partnership with diamour — for love of diamonds — it celebrates the core promise of beauty revealed with elegance and flair in fine diamond jewelry that is as special as the woman who wears it.
Beginning with Adrianna Papell's single mission, "To make every woman feel beautiful," diamour has created an outstanding collection that embodies the elegance and flair that defines the Adrianna Papell look and empowers women of all ages to feel their best. Retail prices will range from $1,000 to $12,000.
Ajay Javeri, the CEO of diamour, said, "Adrianna Papell's omnichannel marketing power and well established social media platforms are the perfect complement to diamour's strengths and will enhance our presence in the bridal market."
The collection will debut at JCK Vegas at the diamour booth, S10041 on May 29, 2015.
About diamour inc.
With humble beginnings that date back to the early part of the 20th century, Sevantilal Javeri founded the first family-owned trading company in Bombay, India. Since then, diamour has grown into a dynamic organization with locations in India and New York. As a vertically integrated structure, diamour is able to source rough, cut, polish, design and manufacture exceptional diamond jewelry. A diamour diamond jewelry purchase guarantees beautiful, unique and quality diamond jewelry from a well-established and highly reputable family-owned company with an exceptional commitment to exceeding customer expectations. Please visit our web site www.diamour.us
About Adrianna Papell:
The Adrianna Papell Group, founded in New York in 1979, celebrates 35 years of dressing women of all ages and silhouettes with its two brands – Adrianna Papell and Aidan Mattox. Today, the company is a global business, available in over 20 countries and with a presence in almost 2,000 department and specialty stores in addition to international free-standing stores. Adrianna Papell is a lifestyle brand whose entire focus is on individual beauty being revealed. Its collections — known for exceptional fit, shape and artisanal details — include evening and daywear dresses, related separates, bridal, footwear and fine jewelry. The philosophy is always that there is nothing more alluring than a woman who feels beautiful, which is the foundation for our mission statement "Beauty Revealed – making every moment, and every woman, feel special."