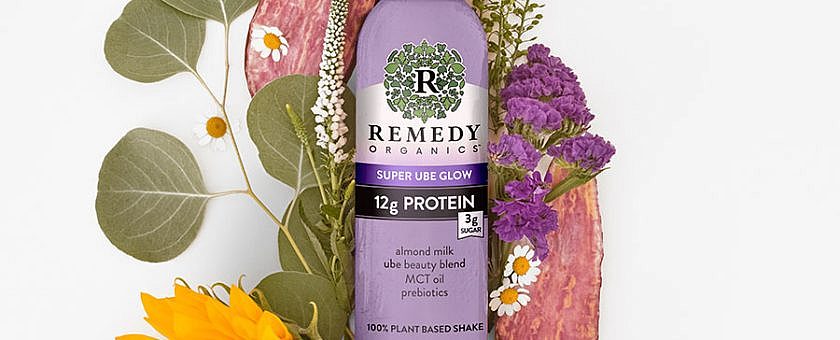 2023 / Oct / 03
Remedy Organics Launches Super Ube Glow – The First-Ever Ingestible Beauty Wellness Shake
From: News Direct
Remedy Organics, the leading producer of award-winning, plant-based, and protein-packed functional beverages, today announced the release of its latest innovation, Super Ube Glow. The new revolutionary blend, designed to nourish from within and promote a radiant inner glow, marks the first-ever ingestible beauty wellness shake to hit the market.
The creamy and delicious wellness shake offers an ube, vanilla-like flavor and is mindfully crafted with thoughtful and certified organic ingredients, providing a protein-packed, nutrient-rich and superfood-charged experience. Formulated by holistic nutritionist and Founder, Cindy Kasindorf, Super Ube Glow features a proprietary Ube beauty blend (antioxidant rich purple sweet potato, pomegranate extract, camu camu, and coconut), almond milk, MCT oil, and prebiotics. The powerful formulation also offers 12g of plant-based protein and features a variety of benefits such as supporting gut nourishment and overall well-being in addition to promoting natural collagen production.
"When formulating our new Super Ube Glow, I set out to create an ingestible beauty wellness shake which not only embodies my belief that beauty comes from within, yet embodies our brand ethos of offering a variety of functional benefits and great taste," said Cindy Kasindorf, Founder of Remedy Organics.
Kasindorf continues, "Super Ube Glow marks yet another milestone in our journey to revolutionize the wellness beverage industry. With its innovative, beauty-from-within approach to functional nutrition, this new product exemplifies our mission to deliver delicious and nutrient-rich shakes crafted with purposeful, holistic, and certified organic ingredients."
Remedy Organics is complementing the Super Ube launch with a packaging refresh to further the brand's commitment to ingredient integrity and transparency. The bright and bold refreshed look was thoughtfully designed to highlight the beverages' protein content and key functional ingredients, making a greater impact with consumers on shelves while maintaining the same high quality ingredients.
"Transparency, quality, and delicious flavor profiles are at the core of our values," said Henry Kasindorf, CEO of Remedy Organics. "We take pride in our packaging which showcases our primary ingredients and links them to their specific health attributes, empowering consumers to fully understand the benefits of our purposefully selected ingredients."
Remedy Organics and the brand's new Super Ube Glow are available for purchase at remedyorganics.com and select nationwide retailers, including over 400 Sprouts Farmers Market locations. The new product will be unveiled at Expo East on September 21. For more information, visit remedyorganics.com or @remedyorganics on Instagram and TikTok.
About Remedy Organics: Remedy Organics is the leading producer of craveable functional wellness shakes and immunity shots that are plant-based, protein-packed, and superfood-charged. Founded by holistic nutritionist Cindy Kasindorf and inspired by the principles of food as medicine, Remedy Organics is crafted with the finest certified organic superfoods, ayurvedics, botanical herbs, and prebiotics to offer unique functional benefits and help unleash the body's natural healing power. The brand's innovative portfolio is certified organic, dairy free, gluten free, soy free, and kosher.
Contact Details
Powers PR
Courtney Stewart
courtney@powers-pr.com