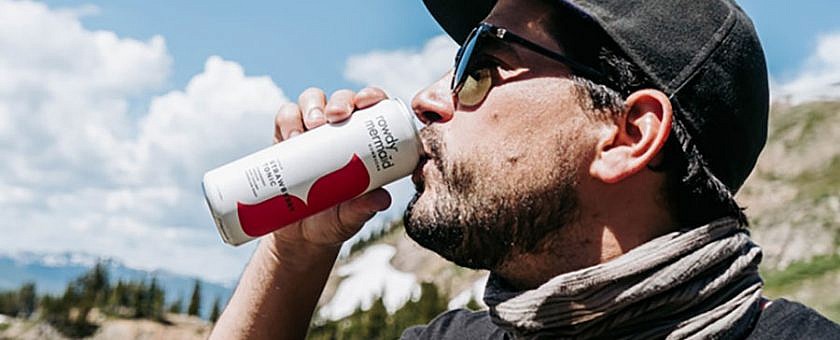 2020 / May / 27
Rowdy Mermaid Raises Another $3.5M in Series A 'Second Tranche'
From: Bevnet
By: Brad Avery
Rowdy Mermaid Kombucha announced today it has raised an additional $3.5 million from investment firm KarpReilly in a "second and final tranche" of its Series A funding round, bringing the total financing to $7 million.
In February 2019, KarpReilly led the Colorado-based brand's initial Series A round and co-founder Allan Karp joined Rowdy Mermaid's board of directors. According to founder and CEO Jamba Dunn, the firm was the sole investor in this second tranche.
The funding follows a year of national expansion for the seven-year-old company, in which it doubled its store count to roughly 1,000 accounts, with additional retail partners expected to come online over the next few months. In October, the company opened a new 29,000 square foot facility which can produce 20 times the amount of cans of its previous location. Although the COVID-19 pandemic led to a "dismal March" in terms of sales, Dunn said, the company has since recovered from the impacts of lockdown and is on pace to meet triple digit growth projections for 2020.
"We find that KarpReilly is an excellent partner for Rowdy Mermaid," Dunn said. "They have a long term vision as we have a long term vision. They have a very cogent and clear understanding of the beverage market…. They also feel that this is the time for us to expand and grow during this time and that moving ahead with a safer, more functional product line is perfect timing."
Much of the new funding will be put towards product development as Rowdy Mermaid moves to broaden its platform from kombucha to functional beverages. The brand's current kombucha line features SKUs tied to different functional benefits, including immunity, digestion and mental clarity, with added herbal and adaptogenic ingredients. Next month the brand will launch Watermelon Bloom, which promotes hydration, and several additional flavors are expected to come later this year.
However, Dunn said, Rowdy Mermaid is also exploring product lines outside of kombucha with focuses on immunity and energy.
"We've always thought of function as more relative to the added ingredients we put into kombucha, meaning the herbs, mushrooms and roots," he said. "As an ingredient-focused company we're now leaning heavily into what opportunities exist with those ingredients and looking not simply to add a little functional bonus to the kombucha but to really find what can support other functions that are necessary during this time, like immunity for instance."
Despite brief struggles during the spring, and the ongoing nature of the pandemic, Dunn said he believes Rowdy Mermaid has found stronger footing during the crisis. The company used downtime in March to revise its HR policies, develop new safety measures and create a better working environment for employees. As well, the brand optimized internal manufacturing strategies to improve output.
The new financing will also go towards launching an ecommerce platform. Dunn said that Rowdy Mermaid has long aimed to go online but needed to first "overcome hurdles" of product safety and adjusted marketing strategies. The company aims to launch direct-to-consumer sales by the end of the year. According to Dunn, the launch of ecommerce was also motivated by the pandemic as consumers embrace online shopping as a means of avoiding physical stores.
Though its retail footprint is largely in the brand's Rocky Mountain backyard, Dunn said the company expects to hire new sales and marketing team members to support broader expansion along the East Coast and West Coast, and the Midwest.
The company is also focusing on deepening its presence in food service outlets and smaller retailers within the Rocky Mountains, he said, noting that many restaurants in Colorado have begun to reopen and the brand is crafting new strategies with those businesses to drive sales as consumers begin eating out again. In particular, Dunn noted the brand is aiming to increase sales for delivery and curbside pickup orders.
"The idea for Rowdy Mermaid is it's not just about ACV growth, it's about how we can form stronger relationships with the stores that we're currently in and deepen those relationships," he said. "Some of the capital we've raised will go towards those efforts."