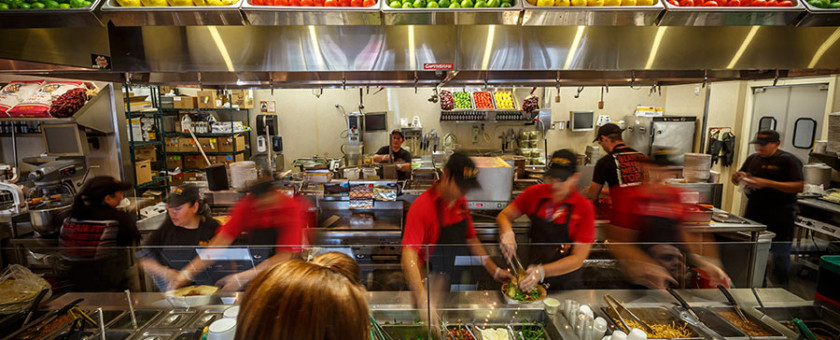 2016 / Feb / 01
Sandelman announces Awards of Excellence Winners
From: Sandelman
By: Jeff Davis
SAN CLEMENTE, CALIF. — Small fast-food chains that have long been local favorites are expanding to new markets and in the process gaining customers and redefining what consumers expect from fast-food restaurants. These chains have an outsized impact on fast-food perceptions and expectations according to restaurant market intelligence firm Sandelman with the announcement of the winners of the prestigious 2015 Quick-Track Awards of Excellence.
"Some of the chains on our Awards of Excellence Top 10 List may not be known yet by those outside their local markets, but their seeming overnight success has really been decades in the making," said Bob Sandelman, Founder and CEO of Sandelman & Associates.
This year's winner of the Overall Award of Excellence is Chick fil-A with 63% of its users rating their last experience excellent overall. It wasn't long ago that Chick-fil-A was a regional favorite, but it has rapidly expanded to become a national player. California favorite In-N-Out is a close second with a 61% overall excellent rating. Chick-fil-A and In-N-Out have traded places at the top of the list over the past several years. The Top 10 List is filled with expanding fast-food chains that are changing the way consumers think of fast food.
Top Ten Quick-Service Restaurant Chains
Ranked by Percent Rating Their Overall Experience Excellent
| | | |
| --- | --- | --- |
| 1 |  Chick-fil-A |  63% |
| 2 |  In-N-Out Burger |  61% |
| 3 |  Portillo's |  60% |
| 4 |  Dion's |  59% |
| 5 |  The Habit Burger Grill |  59% |
| 6 |  Café Zupas |  58% |
| 7 |  Raising Cane's |  57% |
| 8 |  Cafe Rio |  56% |
| 9 |  Capriotti's |  56% |
| 10 |  Five Guys |  54% |
Quick-Track monitored over a million quick-service restaurant occasions across large and small markets throughout the country in 2015. This year's leaders are expanding from a market or region into new areas. For example, Portillo's has long been a Chicago area favorite, starting as a hot dog stand in 1969 and morphing over the years into a chain of fast-casual restaurants featuring hot dogs, hamburgers, barbecue, salads, and more. The chain is expanding to California and Arizona.
Dion's has been serving pizza and subs in Albuquerque since the 70's, and is now gaining recognition as it expands to Texas and Colorado.
The Habit began for many in Santa Barbara, with premium char-grilled burgers, but now they are found all over California and the west. They even have outposts in New Jersey, Florida, and Virginia.
Past Awards of Excellence winner Raising Cane's is a leading provider of chicken fingers in Louisiana that is rapidly gaining rave reviews in Texas, Oklahoma, Nevada, Kentucky, Ohio, and now California.
Utah is a hotbed for fast-casual restaurants with Café Zupas and Café Rio both tracing their origins to the area. Café Zupas focuses on house-made soups, salads, and sandwiches, while Café Rio serves up fresh Mexican food. These chains are the youngest of the bunch having started in 2006 and 1997 respectively. Both chains have expanded in the intermountain area and beyond.
Capriotti's started selling fresh roasted turkey sandwiches in Delaware in 1976. Now you'll find them springing up in the Atlantic seaboard, Nevada, and other western states.
Five Guys Burgers and Fries continues to have a strong presence in Washington, D.C. where it started in 1986, but it has also expanded to over 1,000 units across the country.
"The common theme among these chains is their ability to provide a consistently excellent experience for their users at a single restaurant and then replicating that experience to lots of restaurants in a market, and then across the country," said Bev Cain, President of Sandelman. "All of the chains in the Top 10 deserve all of the kudos that come with the Awards of Excellence recognition for their ability to create and deliver an amazing dining experience as they expand into new locations and new markets."
Quick-Track monitors satisfaction on 17 individual attributes that contribute to overall satisfaction. Chain winners on individual attributes include Chick-fil-A, In-N-Out Burger and Café Rio from the top 10 overall list, as well as Little Caesars Pizza, Jason's Deli, Penn Station, la Madeleine, Cook-Out and Jimmy John's. All of the winners can be seen at www.sandelman.com/awards.
Sandelman is a leading provider of market research and insights for chain restaurants. Quick-Track is a syndicated usage and perception study conducted in over 100 media market across the U.S.