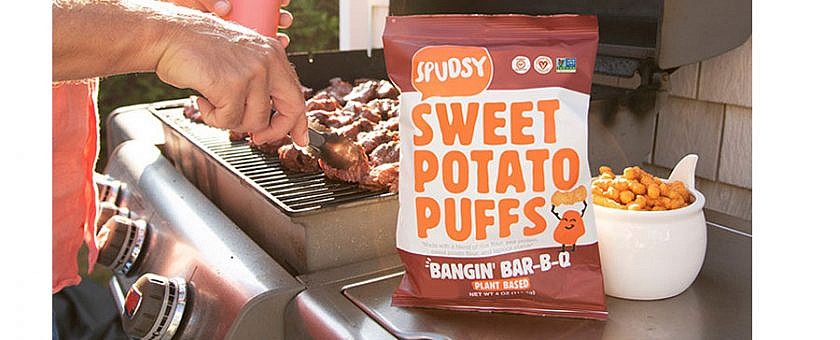 2020 / Sep / 01
Spudsy Closes Round, Expands into New Retailers
From: NOSH
By: Carol Ortenberg
As it prepares to enter its next phase of growth, snack brand Spudsy announced last month the close of a $2 million round of funding. It's necessary capital, founder and CEO Ashley Boeckle said, to get the brand to profitability and support increased distribution.
The round was led by KarpReilly, with Stage One Fund also taking part. Spudsy previously raised $1.4 million over the course of 2019 from Stage One, as well as from the company's co-packer and several private investors. Boeckle said she appreciated that KarpReilly firm doesn't "micromanage" and "trusts" the Spudsy team to execute on its plans.
"Everyone on our team has done this before," said Boeckle, who previously co-founded a protein cookie brand called Buff Bake. "We have a plan and we know what we need to do, but you need money to do it. That's something that a lot of people don't realize and that I didn't realize at my last brand. If you're going into Whole Foods, if you're going into Kroger, you need money to support those retailers."
Spudy has added over 3,000 doors since January, including 600 Kroger locations in February; it is launching into Whole Foods Market nationwide this month. Boeckle said much of the funding will go towards funding promotions, end caps, demos (once they return) and other marketing programs in these new accounts.
Beyond marketing plans, Spudsy also recently hired Dustin Kochis as VP of Sales. Kochis spent time as the former the VP of sales at fellow puff brand Hippeas and also worked on the sales team of Pirate's Booty, which has earned him the nickname "Puff Daddy," around the office, Boeckle said. The company also will look to add a director of marketing. The hiring strategy, she said, is to hire experienced veterans who can immediately add value to the company.
"I believe you don't need a big team, you just need the right people," Boeckle said. "I'd rather pay double and get the right person in here."
Innovation for 2021 will be largely focused around launching 1 oz. single serve bags, which will be sold individually or in a multipack, and wider distribution of the brand's two new flavors: Vegan Buffalo Ranch, after it comes off of an exclusive with Whole Foods, and Vegan Sour Cream and Onion. Both are designed to appeal to the conventional shopper, offering the first puff alternatives to Flaming Hot Cheetos and the classic chip flavor, respectively.
Moving forward, Spudsy will launch other sweet potato themed snack products, Boeckle said.
She said that growing responsibly is a focus, with the goal of achieving profitability. August was its first profitable month, she said, and sometime in the second half of next year, when the company is looking for its next round of funding, it expects to be profitable consistently.
"Five years ago [investors] were all about sales… but now, they all care about profitability," Boeckle said. "It's so hard to raise money right now if you aren't."