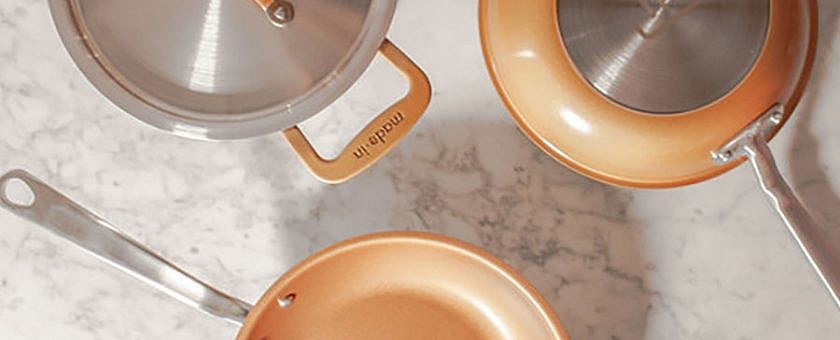 2018 / Nov / 02
Tom Colicchio on the Single Best Holiday Gift You Can Give That "Lasts a Lifetime" (And Even Longer)
From: The Feast
By: Alesandra Dubin
Bravo's Top Chef is heading to Kentucky for Season 16 when it premieres Thursday, December 6 at 9/8c. And that hotly anticipated date just so happens to coincide squarely with holiday gifting season — so we asked lead judge Tom Colicchio — to weigh in on the absolute best gift to give (or receive).
It might not surprise you that Tom named (drumroll) cookware at the top of the list. That's because, "It will last a lifetime and so you're giving something to someone that not only will they use their entire life but most likely will pass down to their children. So it's something that [the recipient] can continue to enjoy," he told The Feast. "It's not something that you consume once and it's gone. It's something that will last a lifetime so it's a great gift."
He knows how much of an enduring pleasure cookware can be — from personal experience. "I have an old steel sauté pan that I bought, it had to be 35 years ago at Zabar's — and I've dragged it around with me. It's a great piece. There's no name on it, but it's a great piece of equipment!"
Tom recently announced that he's investing and partnering with the cookware company Made In, a direct-to-consumer brand that offers high-quality cookware without the inflated price. "What's really cool about this company, they're completely disrupting cookware so they only sell direct," he told The Feast. "So their prices are about half the price of some of the other nationally known brands and the quality is every bit as good and that's why I got involved with them."
If you're buying what Tom's selling (literally), you're going to want to consider this special-edition set of the Made In cookware line, all ready to be wrapped up in a bow, delivered with love… and used all season long and way beyond.
The kit contains set of cookware that with a festive, and differentiating feature: touches of gold.
Behold the beauty:
The set comes with a 10-inch gold nonstick pan, a 10-inch gold wrapped stainless steel pan, and a five-quart gold-handled stock pot with lid. It's regular priced at $299, but you can get the whole thing on sale right now for $269.
And you don't have to take it from Tom — you can take it from someone who really knows cookware. Me! (I kid, but…)
I got to try a preview of this set before it officially came out — and was instantly hooked. First of all, just from an aesthetic standpoint, I love that the pieces stay looking sophisticated — even professional — but with a twist that feels more unique than what you'll find in other people's houses. They're stainless steel, but the warm gold details makes them even lovely enough to be a conversation starter just sitting on the stove.
Beyond that, it's just incredible quality: I've been using a set of nonstick pans I received as wedding gifts nearly nine years ago. And I thought they were working just fine… until I tried this alternative. To put the new set to the initial test, I whipped up a batch of cheesy scrambled eggs — and they slid right onto the plate like you might see in an infomercial. (No fuss, no mess!)
Plus, I just love that — like Tom says — giving a set of cookware is like sharing your love in the kitchen and around the table… forever.