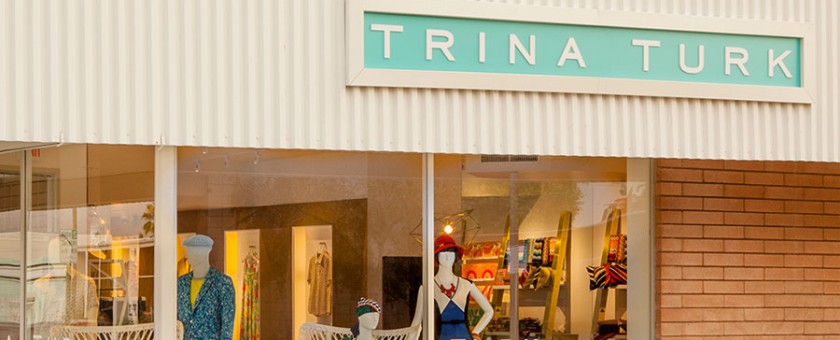 2008 / Jul / 08
Trina Turk Receives Growth Investment
Trina Turk is pleased to announce that KarpReilly, LLC, a Greenwich, Connecticut based firm, has made an investment in the company. Since its inception in 1995, Trina Turk's mission has been to create a fabric and print-driven contemporary clothing collection and lifestyle brand inspired by living in Southern California and Palm Springs.
"We are very excited to be partnering with KarpReilly to continue the growth of our company," stated Trina Turk, Founder and CEO. "Their knowledge and experience with high growth apparel brands like ours makes them an ideal fit."
The principals of KarpReilly have been investing in the consumer sector for over 15 years. "We think Trina and her company are a perfect match given our focus on consumer growth investing," says Adam Burgoon, partner, KarpReilly, "and we look forward to a long, successful partnership."
The Sage Group, LLC advised Trina Turk and CIT Commercial Services continues to provide the company's revolving debt facility.
About Trina Turk:
Founded in 1995 and headquartered in Los Angeles, Trina Turk began as a designer and manufacturer of a women's contemporary clothing collection. The company has successfully extended its lifestyle appeal to include a swimwear license with Apparel Ventures, a license for sun-resistant, water-resistant printed home furnishings fabrics with Schumacher launching for Spring 2009, and plans to extend into broader lifestyle categories. Current distribution includes Nordstrom, Neiman Marcus, Bloomingdales, better specialty boutiques across the country and Trina Turk retail stores in Palm Springs, Los Angeles, and New York, with two additional doors opening in Burlingame, California and Fashion Island in Newport Beach in November of 2008.
About KarpReilly:
KarpReilly, LLC is a private investment firm, founded by Allan Karp and Chris Reilly, whose primary mission is to partner with premier small to mid-size growth companies and help them achieve their long-term vision. KarpReilly currently manages funds and affiliates with initial capital commitments totaling $300 million. Over the past 15 years, the principals of KarpReilly have invested in, sat on the boards of and nurtured over 25 consumer growth companies. Among the notable companies that the principals of KarpReilly have invested in are Charlotte Russe, Spyder Active Sports, and Tommy Bahama, among others.
For additional information contact Adam Burgoon of KarpReilly at aburgoon@karpreilly.com or 203.504.9900.