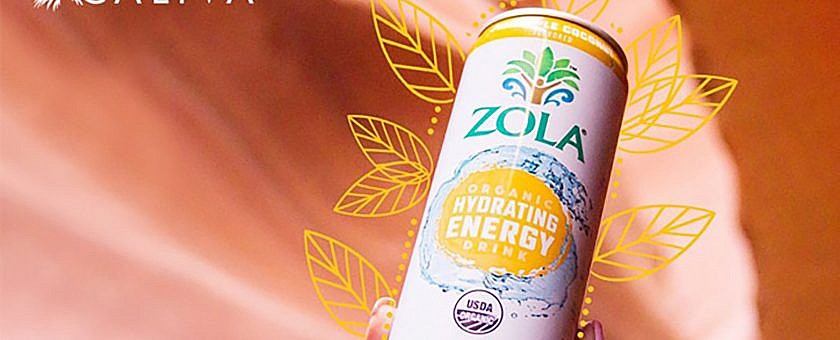 2019 / May / 17
Zola Acquired by Cannabis Brand Caliva
From: Bevnet
By: Brad Avery
Plant-based beverage maker Zola was acquired last week from investment group KarpReilly by California-based cannabis company Caliva for an undisclosed sum, the company announced today.
The acquisition will help Caliva to broaden its vertically-integrated cannabis business — which produces flower, vape, and oil products — into beverage through its access to Zola's research and development team and established retail distribution network.
Zola founder and CEO Chris Cuvelier will continue to lead the brand, in addition to taking the role of head of beverage for Caliva. Speaking to BevNET this week, Cuvelier said he will develop THC-infused beverages to be sold in California dispensaries under the Caliva trademark, as well as CBD-infused beverages under the Zola and Caliva brands for mainstream retailers nationwide. The company could also launch additional cannabis-infused beverage brands; however, there are currently no plans to develop THC-infused beverages under the Zola name.
"We are working to build out a portfolio of beverage brands infused with cannabis to be sold in our distribution channel in California," Cuvelier said. "Simultaneously we're developing those same branded products to sell to the mainstream market leveraging Zola's existing team and infrastructure for distribution."
Caliva has already begun developing drinks set for launch later this year and intends to have a beverage manufacturing facility operating by August, Cuvelier said.
Zola will also continue to produce and distribute its existing products, which include coconut water, acai juice, and natural energy drinks. Without providing specific details, Cuvelier said future products will be plant-based and may offer the brand an opportunity to expand its portfolio.
"We've got a unique opportunity to build a portfolio of brands that can gain product authenticity in the cannabis channel and can also be infused with hemp-based CBD in the mainstream markets," he said. "We'll likely create a Zola sub brand that focuses on CBD but leverages Zola's positioning within plant-based beverages."
According to Cuvelier, the two companies first came together when he and Caliva CEO Dennis O'Malley spoke on a panel about disruption in the beverage industry at the 2018 eBev Series conference in October. Cuvelier began consulting with Caliva in November, before deciding to sell the company earlier this year.
Zola was purchased by KarpReilly in 2016. In 2017 the company underwent a comprehensive rebrand, dubbed Zola 2.0, which established the brand's identity of "plant-based hydration" and set the stage for broader distribution and new product launches including a Sparkling Energy Water line. The company's products are currently available in more than 7,000 retail locations nationwide, including grocery, natural and specialty, and restaurant accounts.
Since launching in 2015, Caliva has established a presence in the burgeoning California cannabis market. The company owns a 110,000 square foot facility in San Jose which includes a genetics lab, 13 grow rooms, an oil extraction facility, and a dispensary. The company's products are sold in at least 250 of California's 500 dispensaries. Caliva currently operates its own DSD network with a 12 person sales team and a three person business development team, according to Cuvelier.
"The overall strategy for Caliva is to develop a democratic product portfolio for everybody at different consumer segments and price points," Caliva CMO Stephen Matt told BevNET. The company, he said, has divided its product development into two segments — "Fun for You" recreational products and "Health and Wellness" products which will include CBD drinks as well as products to aid sleep, stress, and pain relief.
"Where Caliva is focused and positioned is on really being the number one most trusted lifestyle cannabis brand," Cuvelier said. "They're able to accomplish that by being totally vertically integrated."