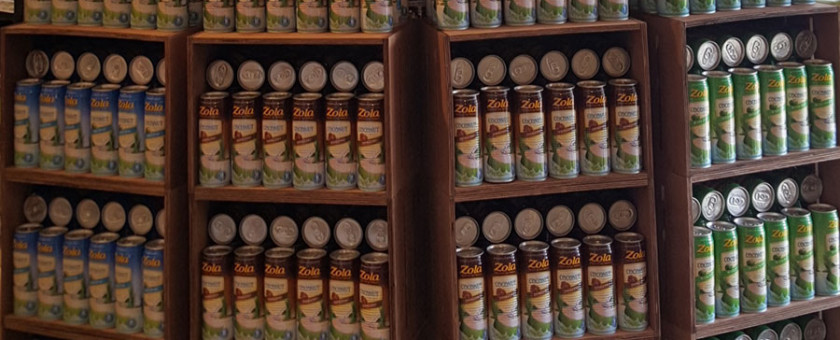 2015 / Feb / 17
Zola® Fruits of the World™ Announces New Distribution at Top Retailers
From: PR Newswire
SAN FRANCISCO, Feb. 18, 2015 /PRNewswire/ — Zola® Fruits of the World™, makers of top-selling Coconut Waters and Acai Juices in the United States , is proud to announce distribution expansion into Kroger, Winn-Dixie, BI-LO, subsidiaries of Bi-Lo Holdings, Boston and NY Stop & Shop, Giant Food, Giant Food Stores and Sprouts locations. This expansion secures placement for Zola in 2,600 additional grocery and natural food stores and deepens its distribution footprint into key Northeast, Southeast, Pacific Northwest and West Coast markets across the country. The company attributes this significant momentum to Zola's commitment to high-quality, great tasting products, positive consumer reactions to the brand's successful line extensions and a focused produce department strategy.
Zola is the fastest growing coconut water brand in both conventional grocery and natural foods channels.[1] Recently, sales of Zola Coconut Water surpassed Naked Coconut Water, securing the #4 position in the conventional grocery channel.[2] "We are ready to build on our momentum with new distribution in major grocery chains and the second largest natural food retailer in the country," said founder and CEO Chris Cuvelier. The company will launch products in OR, WA, AZ, CO, SoCal, TX, FL, CT, NY, NJ and MA with dedicated merchandising teams to support the accounts and build the Zola brand in these new markets. In addition to this expansion, Whole Foods Market has recently expanded their offering of Zola products in the Southern Pacific division. "At Zola, we listen to our consumers to create the very best products and partner with our retailers to deliver strong in-store programs that drive sales. We look forward to executing our growth plan for a successful 2015 and commit to delivering exciting new products to meet our consumer's needs," says Cuvelier.
About Zola
Zola was founded in 2002 and is the maker of top-selling Coconut Waters and Acai Juices in the United States. We are fanatical about traveling the globe in search of the best ingredients. Our philosophy is to go directly to the source, and our promise is to produce only the best-tasting, most nutritious products. Zola's products include Coconut Water Original, Coconut Water with Espresso, Coconut Water with Pulp and Coconut Water Lemonade. Zola is also the maker of the fastest selling Acai juices in the United States including Original Acai, Acai with Blueberry and Acai with Pomegranate. All products are available at grocery and natural food stores across the U.S. and Canada. For more information about Zola, please visit us on Facebook, Instagram, Twitter and at www.LiveZola.com.
For more information, please contact:
Rosa Compean, VP of Marketing
rosa@livezola.com
415-775-6355
[1] Spins Conventional Total US Food (of the top 5 mainstream brands with ACV >5), 52 weeks ending 10/5/14 and Spins Natural (of the top 15 natural brands), 52 weeks ending 11/2/14 ($ sales)
[2] Spins Conventional Total US Food, 52 weeks ending 10/5/14 ($ sales)
SOURCE Zola Fruits of the World
RELATED LINKS
http://www.LiveZola.com.