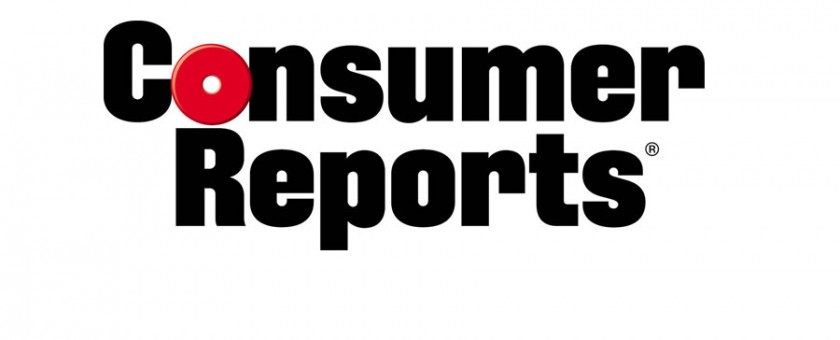 2014 / Jul / 15
Best and worst fast-food restaurants in America
Published: July 2014
Chew over the results from Consumer Reports' latest reader survey

Americans are spending more than ever to dine out—topping $680 billion per year. And they are demanding more for their money, higher quality fast food, and greater variety than can be found at titans such as Burger King, KFC, and McDonald's. (Check our buying guide and Ratings for fast-food restaurants, and look at our gripe-o-meter to see what bugs Americans when they dine out.)
That's according to Consumer Reports' latest fast-food survey. After devouring 96,208 meals at 65 chains, our readers told us that quality of the food has become more important in their dining decisions, and convenience of location is less so than in our 2011 report
They could be reasons the traditional fast-food chains are losing their edge: Diners, especially younger adults in the millennial generation, may be more willing go out of their way to get a tasty meal.
Restaurants are a part of the millennials' social structure, and they choose to spend less at meals so that they can eat out more often, says Darren Tristano, executive vice president of Technomic, a food-service research and consulting firm. "Fast-casual dining in places like Chipotle and Panda Express lets the consumer guide the staff to prepare their meal just the way they like it," he adds. In contrast, he says many of the traditional chains have lagged in offering higher-quality ingredients. Chains such as Chipotle, Noodles & Company, and Panera are even offering meat that has been produced without the use of antibiotics in animal feed, an attraction for many health-conscious consumers.
Once you get past the big guys, you'll find many fine national (defined as operating in six or more states) and regional restaurants. Some of the best are In-N-Out Burger, Jason's Deli, Papa Murphy's Take 'N' Bake Pizza, Portillo's Hot Dogs, and The Habit Burger Grill. Our survey also reveals the restaurants with the best and worst signature dishes. (Spoiler alert: You might be shocked what readers said about McDonald's burgers.)
And breakfast is a new fast-food battleground, with more chains offering meals, includingTaco Bell, which has introduced the Waffle Taco to take on McDonald's McGriddles. Take a look at our battle of the breakfast sandwiches.
Here you'll find our takes on burgers, burritos, chicken, and sandwiches and subs, as well a listing of readers' favorite alternatives to fast food.
Get more details about breakfast sandwiches, getting more for your money, regional gems, nutrition, cleanliness, and service.
We asked subscribers this direct question: On a scale of  1 to 10, from least delicious to most delicious you've ever eaten, how would you rate the taste? We heard about 53,745 burger chains' burgers, chicken chains' fried or roasted chicken, Mexican chains' burritos, and sandwich chains' sub—or heroes, hoagies, grinders, or wedges, depending on where you call home. (Click on the image at right to see an expanded view of the taste tables.)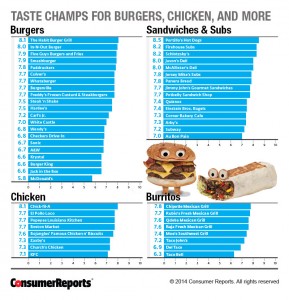 The tables reveal that some signature dishes came close to our readers' benchmarks for excellence. But many of the biggest names earned significantly lower scores for the foods that made them famous, notably McDonald's. The chain, which serves flash-frozen patties made with 100 percent USDA-inspected beef, touts them as free from  "preservatives, fillers, extenders, and so-called pink slime." Such a pledge might be comforting, but it's hardly a rousing endorsement. McDonald's own customers ranked its burgers significantly worse than those of 20 competitors, including Hardee's, White Castle, and Carl's Jr. No other house specialty scored as low.
Taco Bell's burritos were also voted least luscious. And the subs from Subway, the world's largest restaurant chain with more than 40,000 units in 106 countries, are near the bottom of the list.
*Source: Consumer Reports National Research Center. Differences of at least 0.4 are meaningful for chicken, burritos, and sandwiches. The meaningful difference among burgers is 0.5 or more.
Fast-food alternatives: Readers' choices for fast-casual restaurants
Fast-casual restaurants are a step up from fast food (Chipotle describes its fare as "farm to face"). They usually serve higher-quality fare, charge higher menu prices, and focus more on a dine-in rather than drive-through experience. And they're big on breakfast. The ones listed were among the most praiseworthy. McAlister's Deli gets the award for most improved. The chain's score increased significantly since our 2011 report.
Here are the restaurants at the top of the list.
• Chipotle Mexican Grill
• Firehouse Subs
• Five Guys Burgers and Fries
• Jason's Deli
• Jersey Mike's Subs
• Jimmy John's Gourmet Sandwiches
• McAlister's Deli
• Panera Bread
• Schlotzsky's