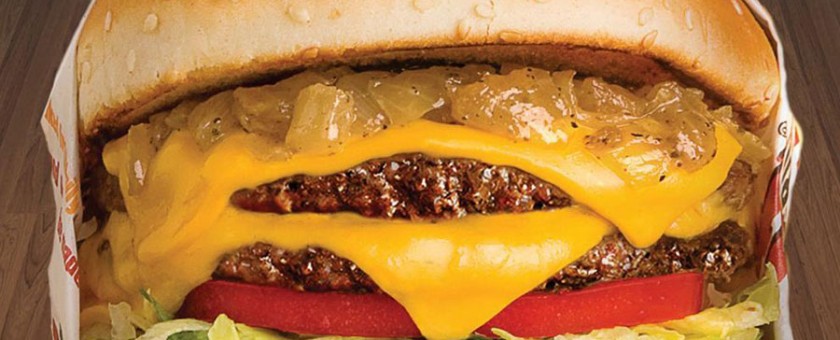 2017 / Jul / 14
Best Burger Joints: Hamburger Chains You Need to Try
From: CheatSheet
By: Megan Elliott
If you love burger joints, you're spoiled for choice these days. There are the creative, metal-themed burgers at Kuma's Corner in Chicago (where the Led Zeppelin is topped with both bacon and pulled pork ); the $35 burger at New York's DB Bistro Moderne, which is filled with short ribs, foie gras, and black truffle; and the ridiculously over-the-top burgers at Las Vegas' Heart Attack Grill, such as the Octuple Bypass that comes with eight patties and 40 slices of bacon.
Those eye-catching burgers have their place, but if you're in the mood for something a bit more traditional, we suggest heading to one of the many hamburger chains dotting the American landscape. At these burger joints, you'll find delicious burgers that don't need fancy toppings or other stunts to taste great. Some of their names are well-known — who hasn't heard of In-N-Out, Five Guys, and Shake Shack by now? But those are hardly the only fast food chains making a good burger these days. Here are five lesser-known burger joints we think you're going to want to try.
1. The Habit Burger Grill
When Consumer Reports polled its subscribers about their favorite fast food burger, the chain that came out on top was a surprise. The Habit Burger Grill narrowly edged out favorites like In-N-Out and Five Guys. The chain, which was founded in Santa Barbara, Calif., in 1969, has 145 restaurants in nine states, including Arizona, Nevada, New Jersey, Virginia, and Idaho.
What makes The Habit special? Its burgers are grilled over an open flame and served with caramelized onions, and the prices are affordable. "It was easily one of the best chain burgers I've ever tasted," Erin Jackson of Serious Eats wrote in her review.
2. Bareburger
East Coast chain Bareburger serves organic, all-natural burgers, fries, and shakes. And unlike some other chains on this list, which stick with the tried-and-true beef burger, Bareburger isn't afraid to experiment. You can also get patties made with elk, bison, wild boar, and duck. Specialty burgers include the Blue Elk, a game patty topped with Amish blue cheese, country bacon, onions, and tomato-fig jam. Even non-meat eaters can get in on the action with the chain's vegan options.
Currently, there are 31 Bareburger locations in five states (plus one in Canada), but the chain is rapidly expanding, so one could be coming soon to a town near you.  New locations of the chain —  the 12th-fastest growing in the country in 2015, according to Restaurant Business — are set to open in Chicago, South Beach, and Dubai in the near future.
3. Winstead's
Winstead's is a Kansas City institution, with a handful of locations scattered across the city. New Yorker food critic (and Kansas City native) Calvin Trillin swears they serve the best burgers in the country, and he's not the only one who thinks the chain is top-notch. The Daily Meal names the Double Winstead one of the 101 best burgers in America.
"Order the double, comprising two 2-ounce patties, smashed down on the griddle until they're essentially just crust, but retaining moisture," The Daily Meal advises.
4. Burgerville
Burgerville is a beloved chain in Portland, Ore., yet it's mostly unknown to people outside the area. That's a shame, because each of the 42 locations serves up delicious burgers made with farm-fresh, locally sourced ingredients. Some items, like the Walla Walla Sweet Onion Rings and the Oregon Raspberry Milkshake, are strictly seasonal. Oh, and all of the restaurants run on wind power.
"I never visit the Pacific Northwest without at least one meal here. I am in awe of Burgerville, which manages to be such a taste of its region (hazelnut milkshakes, Tillamoook cheeseburgers, Walla Walla onion rings) and yet so slick and efficient," Roadfood's Michael Stern tells USA Today.
5. P. Terry's
This Austin hamburger chain has just 14 locations, each serving burgers made from 100%, never-frozen beef and garnished with toppings like homemade ketchup and locally grown tomatoes and onions. A burger like that might set you back $5 or more at other burger chains, but at P. Terry's, the cheeseburger costs only $2.60, even though all workers earn at least $10 an hour.
The commitment to quality is one reason the beloved chain lands on Eater's list of 38 essential burger restaurants in the U.S. "P. Terry's … makes a mighty fine classic California-style hamburger," the site notes. Be warned that you may have to wait to get your burger fix, since "at peak hours the drive-thrus often get so backed up they clog the already busy city streets."