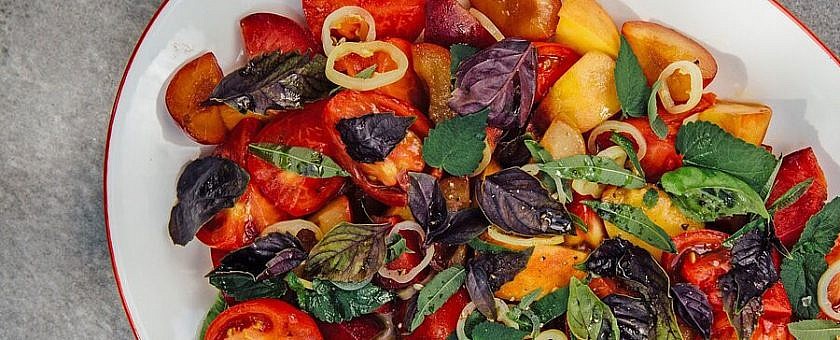 2020 / Aug / 26
Made In's Newest Launch Uses a Chef-Approved Trick for Better-Tasting Meals
Make room in your kitchen.
While flavor and taste are essential components of cooking, professional chefs know we eat with our eyes first. A combination of color, texture, and presentation draws us into every dish, building excitement before we dig in. And with so much riding on that first look, it's essential to invest in quality plates, bowls, and serveware that highlight your food.
That's why Made In, the direct-to-consumer cookware brand that's gained the devotion of professional chefs, decided to launch its own tableware collection. Starting September 3, it will sell dining pieces like ceramic plates and bowls, flatware, and glasses . And in true Made In fashion, its latest products are restaurant-quality.
Designed and developed with legendary hospitality manufacturers and chefs, Made In's new tableware is durable enough to handle the work of professional kitchens. In fact, James Beard semifinalist Jamilka Borges plans to outfit her new Pittsburgh restaurant, Wild Child, entirely with Made In.
"Plateware is not and should not be an afterthought," she wrote to Food & Wine. "I want beautiful, classic, and durable plateware that can last. Something that showcases the dish's bold colors and allows the food to be what it is. Using Made In cookware and plateware completely takes away the worry of having low-quality equipment in my kitchen."
The brand's ceramic plates are manufactured in Stoke-on-Trent, England, a region known around the world for its rich history in pottery. The set features five different pieces, including a roomy pasta bowl and a serving platter, and comes in either classic white or red-rimmed. Likewise, the new flatware collection is crafted in Italy, which is renowned for its metalwork, and combines traditional and modern techniques to elevate flavors.