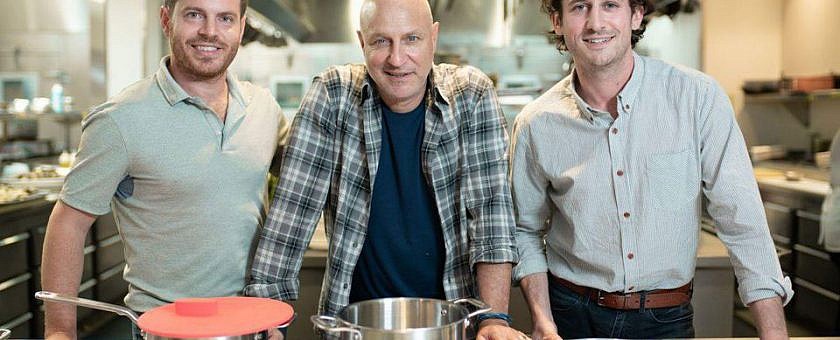 2019 / Apr / 03
With Growth Skyrocketing, Made-In Cookware Raises $5 Million Seed Round
From: Forbes
By: April Hamilton
Jake Kalick and Chip Malt, cofounders of Austin, Texas-based Made In Cookware
are rapidly growing their young company to meet the demands of their hungry customers. In an exclusive interview, Made-In revealed that today they have closed a $5 million seed funding round, which will help scale production and build their team.
Starting with direct-to-consumer premium quality cookware at an affordable price point in 2017, they continue to grow their manufactory. Just in time for the 2018 holiday shopping season, they added a chef's knife, a blue carbon steel skillet, and the Universal Lid, one of TIME Magazine's 2018 Best Inventions. They did $250,000 in sales during the final quarter of 2017, and quadrupled that number the next year by hitting $1 million in sales for November/December 2018.
The round was led by Brian Spaly, founder of Bonobos and founder and former CEO of Trunk Club, and Ezra Galston of Starting Line Ventures. Additional investors include The Alinea Group cofounders, Grant Achatz and Nick Kokonas, Starwood Capital, and The Labora Group, an early investor in Bandier and Citizenry. These new members join Karp Reilly, the original investor in Made-In, bringing the total funding to $8.33 million.
A pioneer in the direct to consumer space, Spaly's enthusiasm for this investment is infectious:
"The product itself is fantastic. They are making a fun, cool, quality product that gets professional chefs excited. With Jake's experience as a third-generation cookware supplier, he knows everything there is to know about kitchens. Partnered with Chip's expertise of building a brand online, Made-In has tremendous authenticity. It's rare that the brand story and the founders' experience actually line up to position for success. They are a great team. I believe they were put on this earth to do this."
In August 2018, Made-In announced a partnership with Chef Tom Colicchio, who serves on their advisory board and recently added a new restaurant, Small Batch, to his empire with a kitchen outfitted with all Made-In cookware. "I'm jazzed about the company. The cookware looks great, performs great, and the best part is the price. These guys hit a home run. I'm advising with new product development, pushing them to create different sizes to fill out the line," Colicchio said.
The Made-In story focuses on developing supply chains to build high-quality kitchen tools. Selling directly to the consumer gives them an edge on pricing. Their five-ply stainless cookware is backed with a lifetime warranty. A starter kit of a 10" skillet, 2-quart covered saucepan and 5-quart covered stockpot is $249. A similar set of a retail competitor is $399.
"2018 was the proof of concept. From day one we wanted to be a company that has a one to one relationship with the consumer. People bought into our story. When chefs bought into it, things got really exciting. We have Chef Tom Colicchio as a media chef partner. We have online tutorials to help teach home cooks the fundamentals of cooking. We think it's pretty cool and inspiring to have partners who share their expertise with our customers," Made-In cofounder Chip Malt said.
A self-proclaimed tinkerer who likes investing in startups that solve a problem, Spaly joins Made-In's board of directors, betting on the future of home cooking."I love the product. I use it every day. I'm looking for innovative companies that help people. Studies show that being creative and making things makes people happier. Cooking is a digital detox, it brings families together."